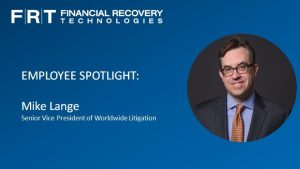 Mike Lange is the Senior Vice President of Worldwide Litigation at Financial Recovery Technologies. With more than 20 years of practice, he has built a rich network of relationships around the world including corporations, government agencies, lawyers and other professions, which he brings to bear for FRT clients.
1. What are your top priorities and biggest challenges?
My top priorities are deepening our network of global relationships, helping build our governance solution, and ensuring we identify every recovery opportunity worldwide that touches on our clients' investments. Back in 2015, when FRT was growing, the number of eligible recovery opportunities was also increasing substantially and as a result, we identified one of the biggest challenges of finding every opportunity. There are a lot of moving pieces in the process, but as the market evolves, so is FRT. We are committed to staying on top of the rapidly evolving global landscape with new countries coming on, evolving laws in active countries, and more organizers and cases every year.
2. What does your typical day look like?
It seems to vary as soon as I hit the door. I spend a large part of my day identifying new cases outside of our core claim filing business and understanding how all those types of recovery opportunities work in other jurisdictions. The entire legal team services all departments within FRT including client service, marketing and sales, and operational support and I will engage cross-departmentally to support the client and sales in providing my expertise and demonstrating our value proposition.
3. What is FRT doing to ensure they are adapting to the changing landscape of the class action industry while continuing to meet the needs of current and future clients?
FRT has done a great job maintaining relationships with the key players in various global jurisdictions. As we are solely focused on shareholder class actions, we have established ourselves to be at the forefront of new trends and issues. This allows us to support our clients efficiently and effectively and continuously think about how to improve the packaging of the information we provide and the services we offer for our clients.
4. What is your biggest achievement to date at FRT?
I am proud to have helped the team launch the antitrust recovery offering, as well as put organization and structure around the global offering, which has proven to drive the business to the next level. It was a cross-departmental effort involving the legal team, operations, sales, marketing, and client services. Not only does it demonstrates our core values, but it is a good example of the launch of a new product where collaboration had input in the ultimate success.
5. What is the most valuable lesson you have learned during your tenure at FRT?
I've worked in organizations that have been very slow to adapt, grow and develop. FRT doesn't suffer from that. If we believe something needs to be done, it gets done quickly and efficiently. So, my advice could be is to be persistent. It's important to always look at a challenge as an opportunity and constantly be striving to learn from setbacks and be more nimble going forward.
6. What advice do you have for someone considering a career at FRT and in the legal industry?
Don't go in with any preconceived notions. Be flexible and adaptable from the very beginning because you may come in thinking you're going to be doing one thing and it will evolve into something else. And a year later, you'll be doing something completely different.
Subscribe to FRT's Monthly Newsletter
Financial Recovery Technologies' Shareholder Litigation Fast Five provides you with the top news in shareholder class actions. This is your exclusive summary of the latest industry developments related to settled, group and antitrust actions and recovery opportunities. Click here to subscribe.
Learn More
For more information on what our employees have to say about their experiences with FRT, check out our careers page.
Product
Legal
Sales
Client  Service
Operations
About FRT
SETTLED CLAIMS  I  PASSIVE GROUP  I  ANTITRUST  I  FUTURE CLAIMS  I  OPT-IN MONITORING  I OPT-OUT MONITORING
Founded in 2008, Financial Recovery Technologies (FRT) is the leading technology-based services firm that helps the investment community identify eligibility, file claims and collect funds made available in securities and other class action settlements. Offering the most comprehensive range of claim filing and monitoring services available, we provide best-in-class eligibility analysis, disbursement auditing and client reporting, and deliver the highest level of accuracy, accountability and transparency available. For more information, go to www.frtservices.com.
This communication and the content found by following any link herein are being provided to you by Financial Recovery Technologies (FRT) for informational purposes only and does not constitute advice. All material presented herein is believed to be reliable but FRT makes no representation or warranty with respect to this communication or such content and expressly disclaims any implied warranty under law. Opinions expressed in this communication may change without prior notice. Firms should always seek legal and financial advice specific to their unique situation and objectives.