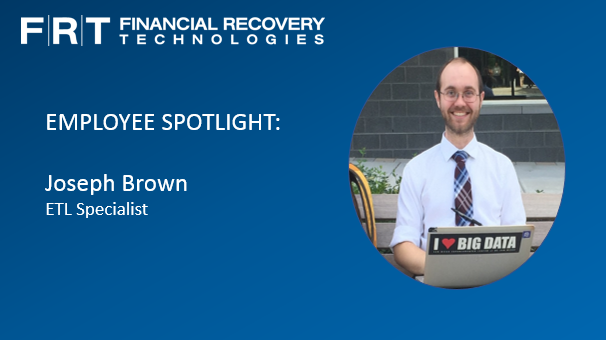 Joseph Brown is an ETL (Extract, Transform and Load) Specialist at Financial Recovery Technologies. With a background in applied mathematics, analytics, and statistics, Joe is responsible for processing the transaction data for our 700+ clients making sure all data is loaded into our database cleanly and efficiently.
What are your top priorities?
My top priority is to get our clients' transaction data into our database, so it is ready to have claims filed before any deadlines. We use several tools including some developed by the Engineering Team to help us get the data into a normalized, "nice" format. The earlier we receive the data, the better because it is often not clear how to map client data in this "nice" way, and we may have to ask account management to reach out for clarification. In extreme cases, we may have to re-pull the data.  It's a lot of work, but it's all to ensure that our filings are not only on time but accurate.
What does your typical workday look like?
The majority of my tasks are data refreshes, where we load a client's latest batch of data. My time is vastly spent on reconciliation tasks, where I identify potential issues with client data that might result in having a claim rejected, and try to resolve those issues.  When I have the time, my focus is to streamline either of those processes to save time for myself and my teammates in future tasks.
How do you define success?
Success to me is when I can automate a process that has always been manually completed in the past. If I can get an entire workflow to run in one procedure without me having to make a single manual entry, I've completed all tasks of that type until the end of time.
What is FRT doing to ensure they are adapting to the changing landscape of the class action industry while continuing to meet the needs of current and future clients?
FRT is continuing to look for ways to offer new services to our clients, find the talent to provide those services with as high of quality as possible and expand the set of technologies at our disposal.
What is the most valuable lesson you have learned during your tenure at FRT?
Sometimes, improving efficiency is its own reward.
What is one piece of advice that has changed your professional career?
Not everything is automatable right now.  Determine up front what it would take to establish a more automated process and whether it would be worth implementing to ensure your time and effort are spent wisely.
Learn More
For more information on what our employees have to say about their experiences with FRT, check out our careers page.
About FRT
U.S. CLAIMS  I  GLOBAL GROUP LITIGATION  I  ANTITRUST  I  LITIGATION MONITORING  I  BUYOUTS
Founded in 2008, Financial Recovery Technologies (FRT) is a leading technology-based services firm that helps the investment community identify eligibility, file claims and collect funds made available in securities and other class action settlements. Offering the most comprehensive range of claim filing and monitoring services available, we provide best-in-class eligibility analysis, disbursement auditing and client reporting, and deliver the highest level of accuracy, accountability and transparency available. For more information, go to www.frtservices.com.
This communication and the content found by following any link herein are being provided to you by Financial Recovery Technologies (FRT) for informational purposes only and does not constitute advice. All material presented herein is believed to be reliable but FRT makes no representation or warranty with respect to this communication or such content and expressly disclaims any implied warranty under law. Opinions expressed in this communication may change without prior notice. Firms should always seek legal and financial advice specific to their unique situation and objectives.