By: Samantha Blumsack, Marketing Intern, Financial Recovery Technologies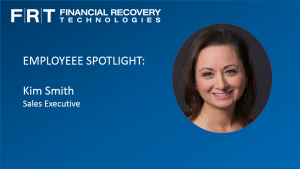 Kim Smith is a Sales Executive for Financial Recovery Technologies. Kim brings over 18 years of experience in the financial services industry, where she leads our new business development efforts for the trust and custody business.
What are your top priorities and biggest challenges?
Other than ensuring that every single one of my clients receives the highest level of service possible, my top priority here at FRT is building out the trust and custody business for the company. It's something I've been working on for most of the time I've been here. Although I have clients in many other segments, I really take pride in the work that I've done so far in that segment to build out our client base and partnerships. It's been wonderful seeing the business evolve and I love the people that I meet when I'm out on the road. My clients and prospects, typically from Operations and Legal teams are fantastic and I really enjoy working with them.  I've met great people, I'm having a ton of fun, and I truly love this job.
My biggest challenge is balancing work and life at home. There is a lot of travel involved, which I do enjoy, but it's important to make sure you're still there for your family. As a working mom, managing a work-life balance is critical.
What does your typical workday look like?
There is no such thing as a typical day for me. It's never the same. I'm constantly shuffling between something for my family, my house, personal appointments, and client and prospect calls and meetings. Each day requires me to manage and juggle all those responsibilities – no day is ever the same. Fortunately, I have a lot of flexibility in my role so I can be wherever I need to be, whenever I need to be there.
What are a few things that most people would not know about you?
Most of my clients have no idea that I work part-time because I'm available all the time. Our phones have given us the ability to always be online and accessible, to have a career where you can balance work and family. I feel comfortable going home to my family, knowing that with a click of a button I can connect with a client and continue doing my job even if I'm not in the office. I'm a part-time employee, but I have full-time responsibilities, so there's a lot of juggling and multi-tasking. I value the -independence I've been given, although I will probably consider going full-time once my kids start going off to college.
What is FRT doing to ensure they are adapting to the changing landscape of the class action industry while continuing to meet the needs of current and future clients?
We're making constant investments to stay ahead of the competition, not only with our technology but with our people. We've hired so many fantastic folks in our back office and on our technology team. They impress me every day with their dedication and high level of service, even the ones that don't interact with clients.  Each of them seems to enjoy their job and loves what they are doing, and they are great at it for sure. We have a wonderful crew in place, exactly the kind of people and mindsets FRT needs to continue to move this business forward.
What is the most valuable lesson you have learned during your tenure at FRT?
Never give up on something you believe in. In the early days, the company didn't look or run the way it does now. Nobody knew who we were, and we really had to spend a lot of time being the face of the business and introducing people to something that was fairly new to them. That, coupled with the fact that it is a really long sales cycle, can be slightly discouraging. It took us a little bit of time to accept reality, that while this is a great service, people are busy and you need to stick with it. You just need to come in every day looking to move a piece of the business forward, while making sure that your clients are continuously happy.  If you focus on that, no matter what your role is in an organization, the rest will fall into place.
What advice do you have for those looking to build a sales career?
Never forget that you can do anything you want to do, and that includes work and be there for your family, even in a role that requires some travel. There are so many jobs now that offer men and women flexible opportunities and great benefits. I think FRT offers SIX weeks Paternity leave! My advice to women in particular that want to be in sales is that they should most definitely go for it, even if you plan to start a family or have children already. There is no longer the mentality that you can't have it all, however, you define "all." You can be a mom and have any job you want, provided you have some flexibility. There are companies out there that will hire you with a flex schedule and even part-time. You can work from home or you can work in the office, or both. I was given that type of flexibility, and I have great loyalty to our management team and our company for being allowed to do that. I think more businesses are finding that this type of arrangement is a win/win. Don't be afraid to ask for what you want in order to make the most of your career and still be there for the family.
How do you define success?
Success is waking up every day and doing whatever it is that you like to do. I absolutely love my job and I am so grateful to have found a company and a position that works well for both of us.
Learn More
For more information on what our employees have to say about their experiences with FRT, check out our careers page.
About FRT
U.S. CLAIMS  I  GLOBAL GROUP LITIGATION  I  ANTITRUST  I  LITIGATION MONITORING  I  BUYOUTS
Founded in 2008, Financial Recovery Technologies (FRT) is a leading technology-based services firm that helps the investment community identify eligibility, file claims and collect funds made available in securities and other class action settlements. Offering the most comprehensive range of claim filing and monitoring services available, we provide best-in-class eligibility analysis, disbursement auditing and client reporting, and deliver the highest level of accuracy, accountability and transparency available. For more information, go to www.frtservices.com.
This communication and the content found by following any link herein are being provided to you by Financial Recovery Technologies (FRT) for informational purposes only and does not constitute advice. All material presented herein is believed to be reliable but FRT makes no representation or warranty with respect to this communication or such content and expressly disclaims any implied warranty under law. Opinions expressed in this communication may change without prior notice. Firms should always seek legal and financial advice specific to their unique situation and objectives.