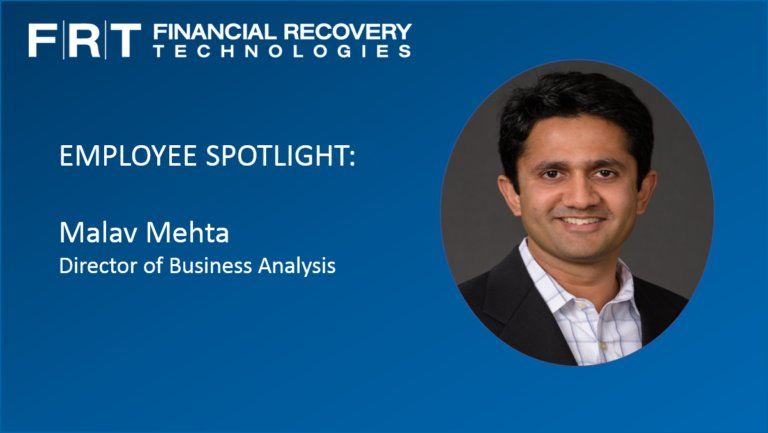 Malav Mehta is the Director of Business Analysis at Financial Recovery Technologies. Malav brings over 15 years of technology experience with financial services companies working on applications in the Front, Middle and Back Office and most recently at Omgeo/DTCC on applications that enable seamless settlements at the depository.
What are your top priorities and biggest challenges?
I am responsible for overseeing a team dedicated to designing and building technology product solutions to improve both the client experience and increase efficiency of our employees. The global class action landscape is constantly evolving and the number of Global and Antitrust cases that FRT is currently servicing is at an all-time high.
My top priority is to ensure FRT is adapting to the changing landscape and not only building new products to address client's need to support these types of cases, but constantly looking at ways to automate as many operational and support processes as possible. It is important to me that my teams perform at the highest level while ensuring we are building applications that are secure, stable and scalable.
One of my biggest challenge is to keep up with FRT's growth. While the fast pace of the class action landscape is great for FRT as it brings new opportunities, it also brings a lot of challenges in terms of building applications to support the growth. It is important that we stay abreast of all the new operational processes and workflows and make sure our systems are able to handle these.
What does your typical workday look like?
My time usually gets divided between the Development teams where I assist in the execution of our projects and discussions with Operations and Client Support to identify, scope, plan and design new applications for our development roadmap. At FRT, we follow an agile development methodology. It allows us to build and release usable features to our clients more frequently. So part of my day, I am writing requirements, prioritizing backlog and stories and helping the team validate some of the features before we roll them out. There are also days when I am helping out Client Service in responding to client queries.
What is FRT doing to ensure they are adapting to the changing landscape of the class action industry while continuing to meet the needs of current and future clients?
FRT has invested heavily in both their people and technology in order to stay ahead of the competition. We have a great pool of employees that allow us to expand our service offerings and provide a comprehensive product suite in the Shareholder Class Action space. We have built automated exception-based applications in the past couple years which allows FRT to provide more custom analysis in order to maximize client recoveries.
What is your biggest achievement to date?
One of the big successes is the great team of analysts we have brought on. They all really enjoy and value working at FRT and that makes my job easy. With a team of dedicated analysts, the expertise has enabled us to create and expand our products and features over a relatively short period of time. In just the past two years, we have built many applications that have added significant value to our clients, including:
An Operational Tool Suite that allows us to load, cleanse and reconcile millions of client transactions automatically
An Automated Notification Suite that calculates and sends out Eligibility, Settlement and Filing emails
A Centralized Case and Security Database which is the most comprehensive securities class action database in the industry and flexible enough to support the various types of Domestic, Global and Antitrust cases
Each of the above applications makes up our best in class client reporting portal. It is hard to believe how much our team has achieved in such a short span.
What is the most valuable lesson you have learned during your tenure at FRT?
As FRT expands its footprint of shareholder class action cases, active jurisdictions and the number of clients serviced, it is really important to have a good understanding of all the operational changes that are happening. The key to keeping up with a growing business is to think about the right long term architecture. A little bit of early diligence helps avoid a lot of unnecessary technical debt.
What is one piece of advice that has changed your professional career?
Be curious and get to know as many people as you can. It is important to invest in your professional relationships, learn new and existing technologies, pick up an alternative skill and most importantly make sure you plan for a rainy day.
Learn More
For more information on what our employees have to say about their experiences with FRT, check out our careers page.
About FRT
U.S. CLAIMS  I  GLOBAL GROUP LITIGATION  I  ANTITRUST  I  LITIGATION MONITORING  I  BUYOUTS
Founded in 2008, Financial Recovery Technologies (FRT) is a leading technology-based services firm that helps the investment community identify eligibility, file claims and collect funds made available in securities and other class action settlements. Offering the most comprehensive range of claim filing and monitoring services available, we provide best-in-class eligibility analysis, disbursement auditing and client reporting, and deliver the highest level of accuracy, accountability and transparency available. For more information, go to www.frtservices.com.
This communication and the content found by following any link herein are being provided to you by Financial Recovery Technologies (FRT) for informational purposes only and does not constitute advice. All material presented herein is believed to be reliable but FRT makes no representation or warranty with respect to this communication or such content and expressly disclaims any implied warranty under law. Opinions expressed in this communication may change without prior notice. Firms should always seek legal and financial advice specific to their unique situation and objectives.