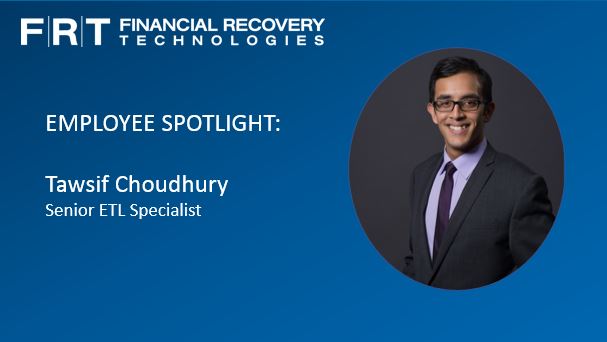 Tawsif Choudhury started at Financial Recovery Technologies seven years ago, fresh out of his undergraduate program at Boston University with a major in Management Information Systems as the first Data Analyst. Today, he heads up the ETL (Extract, Transform and Load) team of six specialists responsible for processing the transaction data for our 700+ clients.
What are your top priorities?
My top priorities are making sure all client transaction data is loaded into our database cleanly and efficiently while reconciling that data against holdings to ensure the accuracy of the claims we file. My team and I are also responsible for various reports and analyses, running them as needed by different groups across the company.
What does your typical workday look like?
My day is a combination of working on the many data tasks in my queue while providing direction to my team regarding prioritization. I have one-on-ones with each of the team members throughout the week to address their assignments and projects. I'm also often involved in meetings that require a subject matter expert to speak to our process of loading, storing, and analyzing transaction data. These meetings can be internal, such as those I've had with the Product team to address OTS (Operating Tool Suite) functionality, or with clients to discuss the intricacies of their data.
How do you define success?
Success is being able to perform your work while delivering high-quality results. At the same time, it is essential to be able to critically analyze the work you do to look for innovative ways to improve your processes.
What is FRT doing to ensure they are adapting to the changing landscape of the class action industry while continuing to meet the needs of current and future clients?
FRT is continuing to look for ways to offer valuable services to our clients, leveraging an ever-growing pool of talent and expanding the set of technologies at our disposal.
If you woke up and had 2,000 unread emails and could only answer 200 of them, how would you choose which ones to answer?
I would address any direct queries from clients first and foremost. After that, I'd follow up with the heads of the other teams at FRT, from whom assign most of the tasks to the ETL Specialists. Then I would identify for me the most pressing issues from their side that need attention.
What is the most valuable lesson you have learned during your tenure at FRT?
I've learned the importance of taking a personal sense of ownership in my work. That sense of ownership makes the difference between considering a task "done" when a bare minimum condition for completion is met, and putting in the effort to make sure work is done excellently.
What is one piece of advice that has changed your professional career?
Despite changing times, the fundamental principles underlying success haven't changed. Work hard, learn continuously, and take pride in delivering excellent results.
Learn More
For more information on what our employees have to say about their experiences with FRT, check out our careers page.
About FRT
U.S. CLAIMS  I  GLOBAL GROUP LITIGATION  I  ANTITRUST  I  LITIGATION MONITORING  I  BUYOUTS
Founded in 2008, Financial Recovery Technologies (FRT) is a leading technology-based services firm that helps the investment community identify eligibility, file claims and collect funds made available in securities and other class action settlements. Offering the most comprehensive range of claim filing and monitoring services available, we provide best-in-class eligibility analysis, disbursement auditing and client reporting, and deliver the highest level of accuracy, accountability and transparency available. For more information, go to  www.frtservices.com.
This communication and the content found by following any link herein are being provided to you by Financial Recovery Technologies (FRT) for informational purposes only and does not constitute advice. All material presented herein is believed to be reliable but FRT makes no representation or warranty with respect to this communication or such content and expressly disclaims any implied warranty under law. Opinions expressed in this communication may change without prior notice. Firms should always seek legal and financial advice specific to their unique situation and objectives.