[ON-DEMAND WEBINAR] 2020 Year-in-Review and 2021 Outlook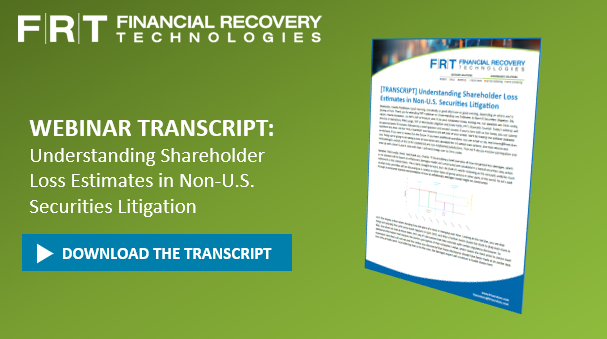 The global securities litigation landscape continues to rapidly grow and evolve. 2020 saw continued growth in US settlements, global opt-in actions (non-US), and antitrust cases. As we look to 2021, what trends will continue to impact the securities litigation space and what's next that investors should be aware of?
Attend our on-webinar* as Mike Lange, Esq., SVP of Worldwide Litigation; Andrew Lasky, Product Marketing Manager; and Alex Watler, Product Marketing Manager at FRT, share insights into:
US Settled: How did COVID-19 impact the US securities class action market in 2020? What opportunities does the opt-out market have?
Global opt-in (non-US): Where were the opportunities for global litigation in 2020? Why are we seeing optimism in non-US opportunities and what does this mean for investors?
Antitrust: What drove the growth in Antitrust actions in 2020? What does the antitrust settlement pipeline look like for 2021?
Other: What's next for class actions and other recovery opportunities beyond securities and antitrust?

*webinar is available for FRT clients, prospects and partners
Learn More

To learn more about how FRT can help your firm maximize recoveries in shareholder class action settlements, contact us at learnmore@frtservices.com.

About FRT

SETTLED CLAIMS  I  PASSIVE GROUP  I  ANTITRUST  I  FUTURE CLAIMS  I  OPT-IN MONITORING  I OPT-OUT MONITORING

Founded in 2008, Financial Recovery Technologies (FRT) is the leading technology-based services firm that helps the investment community identify eligibility, file claims and collect funds made available in securities and other class action settlements. Offering the most comprehensive range of claim filing and monitoring services available, we provide best-in-class eligibility analysis, disbursement auditing and client reporting, and deliver the highest level of accuracy, accountability, and transparency available. For more information, go to www.frtservices.com.
This communication and the content found by following any link herein are being provided to you by Financial Recovery Technologies (FRT) for informational purposes only and do not constitute advice. All material presented herein is believed to be reliable but FRT makes no representation or warranty with respect to this communication or such content and expressly disclaims any implied warranty under law. Opinions expressed in this communication may change without prior notice. Firms should always seek legal and financial advice specific to their unique situation and objectives.