How Investors Are Letting Billions Slip Through Their Fingers in Delaware Appraisal Actions
Investors are leaving billions of dollars on the table in Delaware appraisal actions. With over 160 mergers and consolidations eligible for appraisal each year, it is critical to implement a process to identify opportunities where your firm may be underpaid for its shares.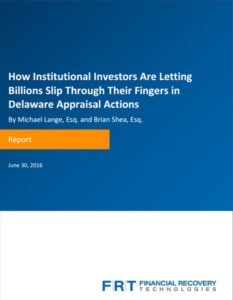 In May, the Delaware Chancery Court issued its opinion in the Dell appraisal case, valuing the company's common stock at 28% more than the $13.75 paid to shareholders on October 29, 2013. In other words, investors were underpaid by about $6 billion in the deal. Despite the magnitude of Dell's underpayment, Dell is only paying $37 million to a handful of investors. Why? Most investors have failed to timely exercise their appraisal rights before the vote on the deal, are now ineligible for payments and have consequently left $5.96 billion on the table.
About FRT
U.S. CLAIMS  I  GLOBAL GROUP LITIGATION  I  ANTITRUST  I  LITIGATION MONITORING  I  BUYOUTS
Founded in 2008, Financial Recovery Technologies (FRT) is the leading technology-based services firm that helps the investment community identify eligibility, file claims and collect funds made available in securities and other class action settlements. Offering the most comprehensive range of claim filing and monitoring services available, we provide best-in-class eligibility analysis, disbursement auditing and client reporting, and deliver the highest level of accuracy, accountability and transparency available. For more information, go to www.frtservices.com.
This communication and the content found by following any link herein are being provided to you by Financial Recovery Technologies (FRT) for informational purposes only and does not constitute advice. All material presented herein is believed to be reliable but FRT makes no representation or warranty with respect to this communication or such content and expressly disclaims any implied warranty under law. Opinions expressed in this communication may change without prior notice. Firms should always seek legal and financial advice specific to their unique situation and objectives.