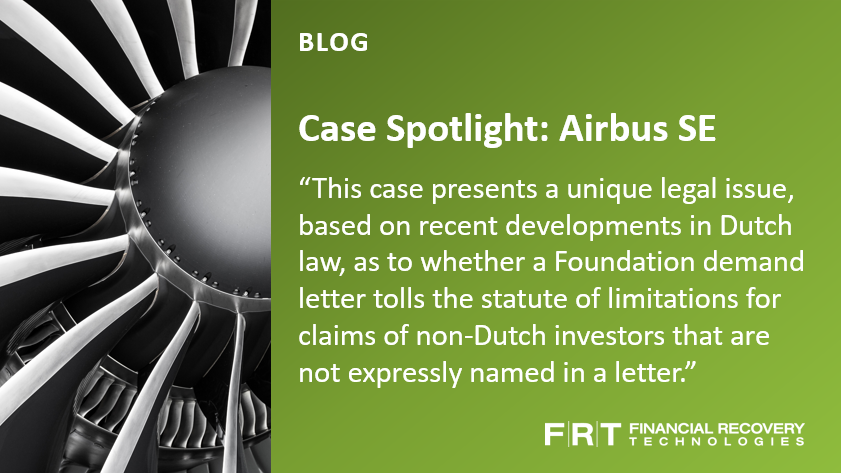 Case Spotlight: Airbus SE
| Company | Steinhoff International Holdings NV and Steinhoff Internal Holdings Proprietary Limited |
| --- | --- |
| Jurisdiction | Netherlands |
| Exchange | Johannesburg Stock Exchange ("JSE") and Frankfurt Stock Exchange ("FSE") |
| Industry | Retail |
| Claims | Accounting Irregularities and Compliance Failures |
| Relevant Period | March 2, 2009 - December 5, 2017 |
| Participation Deadline | Likely April 25, 2022 or shortly thereafter |
Case Background:
On August 8, 2016, the U.K. Serious Fraud Office announced a criminal investigation under the U.K. Bribery Act 2010 into Airbus SE, a Dutch aerospace corporation, for fraud, bribery, and corruption relating to Airbus's alleged use of third party business partners to bribe government officials and airline executives to obtain business advantages. Subsequent similar investigations were announced by the French Parquet National Financier on March 16, 2017, and the U.S. Department of Justice on December 20, 2018. On January 27, 2020, there were reports of a potential settlement between Airbus and the regulators from all three counties. A $4 billion settlement was then announced on January 31, 2020.
These disclosures, and later ones suggesting that senior management knew earlier about the alleged wrongdoing, caused Airbus's stock price to fall significantly, wiping out billions of dollars in market capitalization to the detriment of investors. Organizers are now encouraging investors to join recovery efforts against Airbus on behalf of shareholders.
Changes to Dutch Law:
This case presents a unique legal issue, based on recent developments in Dutch law, as to whether a Foundation demand letter tolls the statute of limitations for claims of non-Dutch investors that are not expressly named in a letter. FRT analyzed the law and determined that the language is not clear on this issue and claimants should err on the side of caution and register for a case and include their names in a demand letter before the statute of limitations expires or risk their claims being time-barred. Like any new law, it will take time before legal decisions clarify how it will be implemented and what it requires.
On January 1, 2020, the Dutch Act on the Resolution of Mass Claims in Collective Action went into effect permitting Foundations to seek money damages for class members. Previously they could only seek declaratory relief followed by later individual damages proceedings. Under the new regime, Dutch investors are automatically encompassed by the group definition unless they affirmatively opt-out, however, non-Dutch investors are only included if they expressly opt-in to the Foundation.
The organizers intend to issue demand letters to Airbus to toll limitations for another five years. Under the old regime, a demand letter from a Foundation suspended the statute of limitations for all members, regardless of where they were located or whether they were specifically named in the letter. Under the new regime, however, where Dutch and non-Dutch investors are treated differently, there is an open question as to whether a group description will toll the limitations period for non-Dutch investors that have not expressly opted-in and been named in the demand letter. Typically, the court will at some point set a date by which everyone must affirmatively opt-in and agree to be bound by a Foundation.
Here, however, the statute of limitations may expire on August 8, 2021, and the court will not issue such an order until after that deadline has passed. Prudence, therefore, dictates that claimants opt-in and identify themselves in the letter to anticipate any challenge by Airbus that their claims are time-barred. FRT recommends claimants register by July 30, 2021, and be listed in a demand letter.
Determining Eligibility & Costs:
Investors are eligible to participate if they acquired Airbus shares during the relevant time period. Recovery efforts will be funded on a no-win, no-fee basis, advancing all expenses. If successful, the organizers will receive cost reimbursement plus a success fee from the net recovery. The organizers will also contractually indemnify claimants against the risk of adverse cost (loser pays) awards by the courts and there are additional protections for them because claims will be prosecuted on a representative basis rather than directly.
Next Steps:
If you have compensable losses and wish to register with the organizers, you must submit a signed participation agreement and other supporting documents. FRT will provide the documents upon request.
Learn More about our FRT Insights Series
FRT Insights provides an unbiased and comprehensive overview of what is impacting shareholder litigation and how institutions can prepare, monitor, and maximize this unique asset, exclusively for asset owners and asset managers. If you are interested in being a potential speaker in future FRT Insights, email us at learnmore@frtservices.com.
About FRT
SETTLED CLAIMS  I  PASSIVE GROUP  I  ANTITRUST  I  FUTURE CLAIMS  I  OPT-IN MONITORING  I  OPT-OUT MONITORING
Founded in 2008, Financial Recovery Technologies (FRT) is the leading technology-based services firm that helps the investment community identify eligibility, file claims and collect funds made available in securities and other class action settlements. Offering the most comprehensive range of claim filing and monitoring services available, we provide best-in-class eligibility analysis, disbursement auditing and client reporting, and deliver the highest level of accuracy, accountability, and transparency available. For more information, go to www.frtservices.com.
This communication and the content found by following any link herein are being provided to you by Financial Recovery Technologies (FRT) for informational purposes only and does not constitute advice. All material presented herein is believed to be reliable but FRT makes no representation or warranty with respect to this communication or such content and expressly disclaims any implied warranty under law. Opinions expressed in this communication may change without prior notice. Firms should always seek legal and financial advice specific to their unique situation and objectives.