Recent audits have shown an increase of 15% or more in class action recoveries for FRT's clients that formerly relied on another third-party, taking into account missed claims, a lack of pre-filing analysis and an inability to manage inter-account transfer lineage.
Do not miss a claim with FRT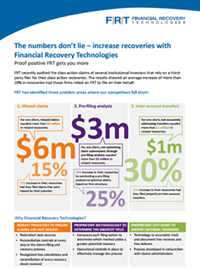 FRT specializes in class action recoveries. Our industry expertise and investment in technology allow us to identify each and every claim for which you are eligible:
redundant data sources
calculating recognized loss for every eligible claim
reconciliation controls at every step of the claims filing and recovery process
reconciliation of every recovery check received
View our infographic to learn more about how FRT is helping our clients recover every dollar to which they're entitled.
Contact us today to discuss how FRT can perform an audit of your historical claims to identify missed recoveries.