Three Key Things to Know About Non-U.S. Jurisdictions
The shareholder litigation landscape outside the U.S. continues to rapidly grow and evolve. With nearly 50 cases filed or book-building during 2018, investors must now consider many more factors when deciding whether to get active and which recovery efforts to join.
Here are three essential things you need to know when deciding whether to participate in recovery efforts outside of North America.
1. Passive versus Active participation
Passive participation jurisdictions involve U.S.-style claim filing with investors submitting proof-of-claims forms or similar paperwork to court-appointed administrators or litigation organizers. This approach allows investors to recover losses without having to actively participate in litigation.
Active participation jurisdictions require prospective claimants to affirmatively opt-in to recovery efforts and participate as a party.  The associated party burdens vary and this approach requires an understanding of the risks and costs in each country.  Most investors will try to streamline things by grouping the non-US jurisdictions by risk level – low, medium, and high – and then use loss thresholds to ensure they only get involved in riskier matters if their losses are significant.
2. Three factors to determine a country's risk level
Each country has different securities laws, court rules, and ways of dealing with claims by multiple investors; but common factors necessary to understand the associated jurisdiction risks include Costs, Discovery and Anonymity.
Costs – Who will pay the lawyers and court costs, and what is the risk of adverse party cost shifting (the requirement in most countries that the losing party must pay the other side's legal costs, in whole or part)?
Discovery – Investors must consider the burdens, including staff time and resources, associated with registering their claims, proving the elements of their claims, and responding to the other side's requests for documents and testimony, either by discovery or request of court.
Anonymity – If you join, how transparent will your involvement be to the other side and publicly?
The legal landscape in each country is constantly evolving and staying on top of the changes is crucial to maximizing recovery opportunities.
3. How to determine which countries are passive or active and the risk associated with each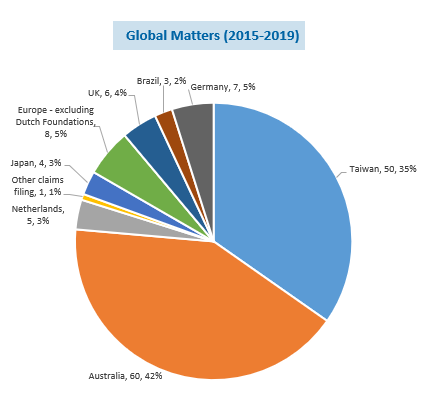 Outside of North America, filings in Australia and Taiwan dominate. Excluding the U.S. and Canada, over the past three and a half years more than 75% of global filings have been in these two countries or a handful of others that similarly involve representative actions and/or passive participation. The process in Australia is similar to the U.S.; Taiwan uses class actions but to date we've seen limited eligibility and limited participation by FRT clients given the significant risks involved.
For the remaining 25% of global filings – requiring opt-in, active participation – FRT's jurisdiction risk profiles can help help simplify decision-making.
Click to download each jurisdiction profile:
Conclusion
Outside of the U.S., there are more companies getting sued, more funders entering the market, and increased competition for investor registrations. While each jurisdiction has its own nuances, contrary to popular belief, the majority of matters outside the U.S. involve representative suits or opt-out class actions, or jurisdiction risk profiles comparable to U.S. passive claim filing. An investor is likely to participate in any filing in a passive jurisdiction, as there is no downside. But in active, opt-in jurisdictions, which involve varying degrees of risk, most investors use "loss thresholds" that must be passed before participating.
Learn More
For more details on non-U.S. shareholder litigation monitoring and recovery opportunities, please contact your FRT representative or email us at learnmore@frtservices.com.
About FRT
SETTLED CLAIMS  I  PASSIVE GROUP  I  ANTITRUST  I  FUTURE CLAIMS  I  OPT-IN MONITORING  I OPT-OUT MONITORING
Founded in 2008, Financial Recovery Technologies (FRT) is a leading technology-based services firm that helps the investment community identify eligibility, file claims and collect funds made available in securities and other class action settlements. Offering the most comprehensive range of claim filing and monitoring services available, we provide best-in-class eligibility analysis, disbursement auditing and client reporting, and deliver the highest level of accuracy, accountability and transparency available. For more information, go to www.frtservices.com.
This communication and the content found by following any link herein are being provided to you by Financial Recovery Technologies (FRT) for informational purposes only and does not constitute advice. All material presented herein is believed to be reliable but FRT makes no representation or warranty with respect to this communication or such content and expressly disclaims any implied warranty under law. Opinions expressed in this communication may change without prior notice. Firms should always seek legal and financial advice specific to their unique situation and objectives.