Partial settlement of $2B in Forex case involves complicated antitrust issues and FX trading
CASE BACKGROUND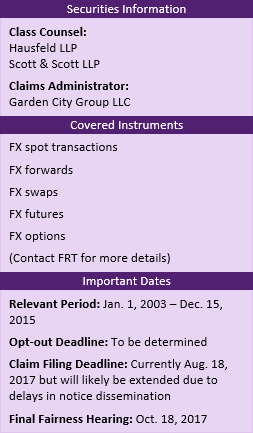 This antitrust class action concerns alleged manipulation of the FX market, the world's largest and most actively traded financial market. The suit centers on collusion among several major FX dealers to artificially set certain key rates in order to enhance profits and reduce the value of customer FX transactions. Currently, nine defendants have agreed to a pay a total of more than $2 billion to settle claims against them. Several other defendants have yet to settle.
Case Timeline:
March 31, 2014: Plaintiffs filed a consolidated amended complaint against major dealer bankers, alleging anti-competitive conduct in the foreign currency exchange (FX) market.
January 28, 2015: The court partially denied the defendants' motions to dismiss the class action.
December 20, 2016: The U.S. District Court for the Southern District of New York issued an order preliminary approving the notice, claim form and plan of distribution.
May 2017: Current expected date these documents will be distributed to eligible class members
October 18, 2017: Date set for a final fairness hearing
The settlements break down as follows:

Estimating Your Losses:
The proposed Recognized Loss formula is complex.  As in prior antitrust settlements – most recently, the credit default swap (CDS) matter – the Claims Administrator will use information obtained from the settling defendants and third-party sources to try to construct your eligible transaction details and estimate your losses. During the claims submission process, you can either (a) accept their trade details and estimated loss amount, or (b) submit documentation showing actual transaction volumes based on your own records. Which option you choose will depend on the nature of your trading activity.  If you traded only with the non-settling defendants or on an exchange, you will need to submit your own records as the Claims Administrator will not have access to this information.
RELATED MATERIALS     
For more information on this case or other securities, global, and antitrust class action litigations, please contact Financial Recovery Technologies at info@frtservices.com.