Case Study: Cambridge Trust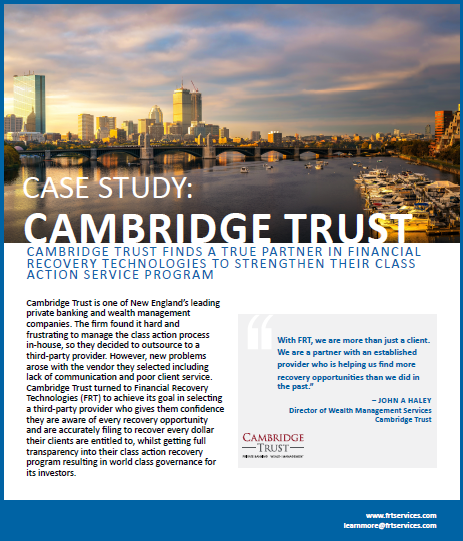 Cambridge Trust finds a true partner in Financial Recovery Technologies to strengthen their class action service program.
Cambridge Trust is one of New England's leading private banking and wealth management companies. The firm found it hard and frustrating to manage the class action process in-house, so they decided to outsource to a third-party provider. However, new problems arose with the vendor they selected including lack of communication and poor client service.
Cambridge Trust turned to Financial Recovery Technologies (FRT) to achieve its goal in selecting a third-party provider who gives them confidence they are aware of every recovery opportunity and are accurately filing to recover every dollar their clients are entitled to, whilst getting full transparency into their class action recovery program resulting in world class governance for its investors.