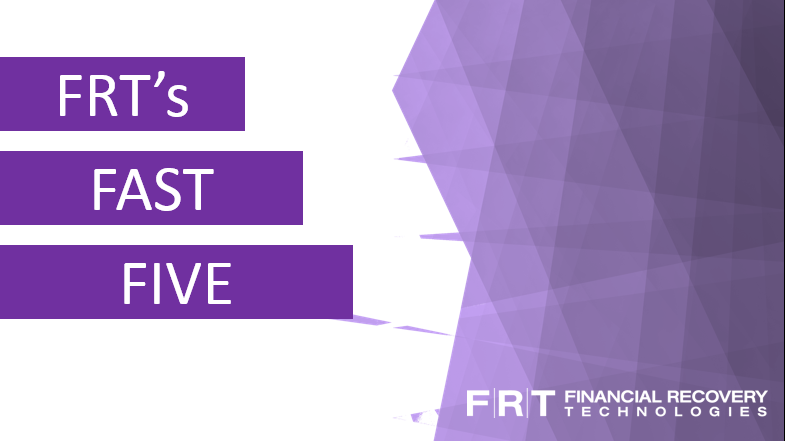 FRT's Fast Five: Week Ending April 8, 2022
Financial Recovery Technologies Fast Five provides you with the top news in shareholder class actions. Stay up-to-date on the latest developments in settled (U.S./Canada) claims filing opportunities, Antitrust settlements, Global Group Litigation matters and more. For more information, contact your Financial Recovery Technologies representative or email us.
1. Investors to Lodge Appeal in Multi-Billion Forex Action
The team behind a proposed multi-billion pound claim against major banks over alleged foreign exchange rigging is appealing after the action was blocked by a London court. London's Competition Appeal Tribunal ruled on Thursday the case brought by asset managers, pension funds, and others against several banks, including JPMorgan, was not suitable to proceed as a US-style, opt-out class action. Michael O'Higgins, the former chairman of watchdog The Pensions Regulator, who had been vying to lead the class action, said on Friday his team would appeal against the decision. Click here to read the full article (subscription may be required).
2. U.S. SEC Proposes Boosting Blank-Check Company Disclosures, Liability
Wall Street's watchdog unveiled a draft new rule to enhance blank-check company investor disclosures and to strip them of a legal protection critics argue has allowed the shell companies to issue overly optimistic earnings projections. The move by the U.S. Securities and Exchange Commission (SEC) is part of a broader crackdown on special purpose acquisition companies (SPACs) after a frenzy of deals in 2020 and early 2021 sparked concerns that some investors are getting a raw deal. The SEC proposal, which is subject to consultation, broadly aims to close that loophole by offering SPAC investors protections similar to those they would receive during the IPO process, the SEC said. Click here to read the full article.

3. China's Regulatory Crackdown Is Increasing Securities Litigation Risk
China's recent regulatory initiatives involving the technology, data privacy, and education industries have resulted in shareholder securities fraud class actions against China-based companies listed on US exchanges, according to Alston & Bird attorneys. While it remains to be seen whether and how the PRC will continue its regulatory push into 2022, these securities class actions demonstrate that shareholder plaintiffs will likely continue to focus on China-based companies' regulatory-related disclosures, particularly following the issuance of significant regulations or the announcement of new enforcement actions. Alston & Bird attorneys look at some of the cases and offer suggestions on what US companies can do to mitigate risk. Click here to read the full article.
4. The Evolution of the UK Litigation Funding Market – Future Trends?
A recent survey among London litigation funders conducted by Macfarlanes has provided some important insights into the likely evolution of the UK litigation funding and legal assets market. Responses to the survey highlighted that a continued focus on collective actions is likely, not least because of the larger budgets typically required for such cases, and that the further evolution of defense funding is inevitable. Importantly, the development of private equity-style investments into law firms may also be an area for focus as funders find ever more innovative ways to deploy capital. Click here to read the full article.
5. Banks Face New Standards on Carbon Emissions Disclosure
Financial institutions will be expected to publish estimates of the carbon emissions linked to their loans and investments, under draft international standards aimed at eliminating greenwashing by companies. The International Sustainability Standards Board (ISSB) published a draft of its proposed standards that will now be subject to public consultation until late July. The ISSB aims to issue the final version by the end of this year. The standards are intended to provide a benchmark that regulators worldwide can use to impose new disclosure rules on companies. Click here to read the full article (subscription may be required).
Subscribe to FRT's Quarterly Newsletter
Financial Recovery Technologies' Shareholder Litigation Insights provides you with the top news in shareholder class actions.  This is your exclusive summary of the latest industry developments related to settled, group, and antitrust actions and recovery opportunities. Click here to subscribe.
Learn More
To learn more about how FRT can help your firm maximize recoveries in shareholder class action settlements, contact us at learnmore@frtservices.com.
About FRT
SETTLED CLAIMS  I  PASSIVE GROUP  I  ANTITRUST  I  CLAIMS MONETIZATION  I  OPT-IN MONITORING  I  OPT-OUT MONITORING
Founded in 2008, Financial Recovery Technologies (FRT) is the leading technology-based services firm that helps the investment community identify eligibility, file claims and collect funds made available in securities and other class action settlements. Offering the most comprehensive range of claim filing and monitoring services available, we provide best-in-class eligibility analysis, disbursement auditing and client reporting, and deliver the highest level of accuracy, accountability, and transparency available. For more information, go to www.frtservices.com.
This communication and the content found by following any link herein are being provided to you by Financial Recovery Technologies (FRT) for informational purposes only and do not constitute advice. All material presented herein is believed to be reliable but FRT makes no representation or warranty with respect to this communication or such content and expressly disclaims any implied warranty under law. Opinions expressed in this communication may change without prior notice. Firms should always seek legal and financial advice specific to their unique situation and objectives.