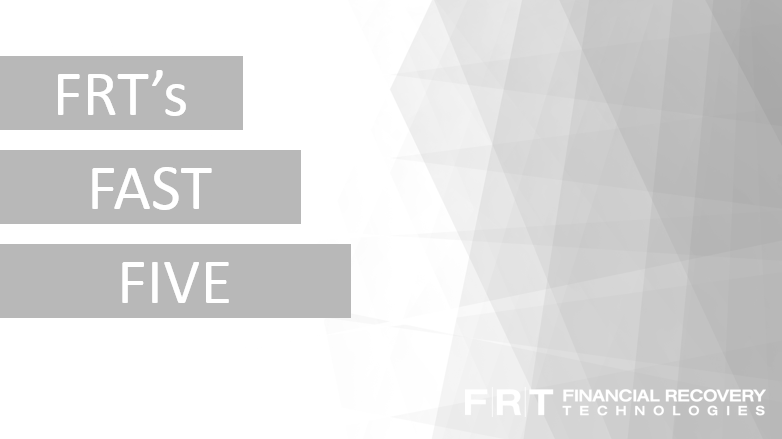 FRT's Fast Five: Week Ending April 1, 2022
Financial Recovery Technologies Fast Five provides you with the top news in shareholder class actions. Stay up-to-date on the latest developments in settled (U.S./Canada) claims filing opportunities, Antitrust settlements, Global Group Litigation matters and more. For more information, contact your Financial Recovery Technologies representative or email us.
1. SEC Proposes New Disclosure Requirements for SPACs
Federal regulators proposed a bevy of new requirements for special-purpose acquisition companies, or SPACs, and their takeover targets amid widespread concern that the vehicles skirt important investor protections. The Securities and Exchange Commission advanced a set of rules Wednesday that, if implemented, would make it harder for SPACs to raise money from investors and execute mergers. Its goal is to force the vehicles to meet similar regulatory standards as initial public offerings, though critics accused the agency of aiming to end their use altogether. Click here to read the full article (subscription may be required).
2. New Wave of Securities Class Action Suits Targets US-Listed Asian Companies
The recent volatility of the US stock market has triggered a wave of class-action lawsuits against Asian companies listed in the US. Recent stock price declines and fluctuations, due partly to the war in Ukraine, have resulted in even more such suits, making some high-profile Asian companies big targets for securities class actions. Grab Holdings, for example, the Singapore-based superapp technology company that listed in New York last year via a SPAC, has now been hit with investigations and lawsuits filed by no fewer than eight US law firms. But Grab is by no means alone. China has taken the top spot among foreign issuers as the target of class action suits in the US—ahead of UK and Canadian issuers. And lawyers expect more US-listed Chinese companies will see such suits. Click here to read the full article (subscription may be required).

3. SEC Climate Disclosure Proposal Looms as Litigation Risk
A U.S. Securities and Exchange Commission proposal that would mandate strict climate reporting from public companies could dramatically increase the exposure of these businesses to costly securities litigation. Lawyers that represent corporations and investors said that the proposal, released earlier this week, could be a potent source of securities fraud litigation, which targets companies over alleged lies or even half-truths told to the investing public. The underlying premise is simple: Make a company talk more—on the record, in their mandatory disclosures like annual reports—and you are more likely to catch it in a mistake that could prove lucrative for the aggressive plaintiffs' lawyers that earn a living suing companies after bad news. Click here to read the full article (subscription may be required).
4. Hard-nosed Steinhoff Shareholders Vote Against Proposals to Issue Shares
Shareholders holding about 20 of Steinhoff International Holdings shares on Friday shot down one of the two options its management may have had to further the restructuring of the global retailer, the issuing of shares to reduce its high debt level. At the annual meeting in Amsterdam and online, shareholders voted strongly against resolutions that would have given its directors powers to authorize shares, such as for a rights issue to raise capital. Click here to read the full article.
5. Resideo Investors Get Final Court Approval of $55 Million Deal
Resideo Technologies Inc. will pay $55 million to investors who accused the residential automation company of misleading them about its 2018 spin-off from Honeywell International Inc., according to a settlement that received final approval from a federal court in Minnesota. The Gabelli Asset Fund and other named plaintiffs accused Resideo of making materially false and misleading statements in connection with the operations of the company following its spin-off. The investors alleged that they were misled about the company's viability as a stand-alone company. Click here to read the full article (subscription may be required).
Subscribe to FRT's Quarterly Newsletter
Financial Recovery Technologies' Shareholder Litigation Insights provides you with the top news in shareholder class actions.  This is your exclusive summary of the latest industry developments related to settled, group, and antitrust actions and recovery opportunities. Click here to subscribe.
Learn More
To learn more about how FRT can help your firm maximize recoveries in shareholder class action settlements, contact us at learnmore@frtservices.com.
About FRT
SETTLED CLAIMS  I  PASSIVE GROUP  I  ANTITRUST  I  CLAIMS MONETIZATION  I  OPT-IN MONITORING  I  OPT-OUT MONITORING
Founded in 2008, Financial Recovery Technologies (FRT) is the leading technology-based services firm that helps the investment community identify eligibility, file claims and collect funds made available in securities and other class action settlements. Offering the most comprehensive range of claim filing and monitoring services available, we provide best-in-class eligibility analysis, disbursement auditing and client reporting, and deliver the highest level of accuracy, accountability, and transparency available. For more information, go to www.frtservices.com.
This communication and the content found by following any link herein are being provided to you by Financial Recovery Technologies (FRT) for informational purposes only and do not constitute advice. All material presented herein is believed to be reliable but FRT makes no representation or warranty with respect to this communication or such content and expressly disclaims any implied warranty under law. Opinions expressed in this communication may change without prior notice. Firms should always seek legal and financial advice specific to their unique situation and objectives.